Chef, Entrepreneur, Bangkok, Thailand
Bangkok is an overwhelming and intimidating symphony of contained chaos. Eight million people feels like 18 when you're in the thick of it. In fact 15,300 people are concentrated there per square mile (5,900 per square kilometer). That's a LOT of people. In the midst of the city's Klong Toey neighbourhood, largest slum of Bangkok, lives Saiyuud Chompoo, a recognized chef and an author of Thai food cuisine manual - Cooking with Poo. Poo, how she is affectionately known in her community and now around the world, came from modest beginnings with a dream to cook Thai food and make a living doing that. It all started with a cooking class for tourists, in the front room of her family home (with no English skills). Five years later, and the initiative has grown into a very successful cooking school, support from world wide community of chefs (two words Jamie & Oliver) and a plethora of tourists like us.
A cooking class with Poo consists of an early pick up, an educational trip to the wet market of Bangkok (see adjacent photos), and a hands-on cooking lesson in Poo's kitchen, the very one she started in, in the heart of Bangkok. Don't be surprised if scooters honk hi as they pass Poo's house, or friends' kids stumble in to check out the scene. The reason Poo has been so successful within her community as well as the outsiders, is her attitude and positivity. Because of her efforts and infectious laugh (seriously this lady jokes and laughs all day) her staff is extremely positive, friendly and overall happy. She employs over 10 people and consistently gives back to her community (donates not only food but provides scholarships, kids uniforms and other basic necessities for those in need). She continues to live in the same house, and the same folks coming by to say hi as when she first started. Khun Poo and her growing team have mastered the English language and can accommodate up to twelve students, six days a week - a big boost to the immediate community as well as the Klong Toey market. Poo is a boss, self starter, a positive lady and a sought out expert in Thai cousine; but she is a WOW WOMAN for being a humble contributor to those less fortunate in her very neighbourhood, serving as a role model to girls and young women and always leading by example.
The following answers are all Poo (with very minor spelling/grammar tweaks from me). Please be cognizant that English is a second (or third/fourth..) language and is not 100% perfect . Perfect is boring anyway! Enjoy.
1. Name
Saiyuud Diwong Nickname Chompoo (Rose apple in Thai) aka Poo.
2. Where is your hometown?
Klong Toey neighborhood in Bangkok.
3. What is your profession/career/title/self-label/designation?
I'm a chef and I run a cooking school. I love cooking and helping others.
4. What was the journey like to get where you are (in life and career wise)? What are some accomplishments you're most proud of?
I used to work as a food seller and the income was not enough to support my family.
As my cooking became known and customers found out, they wanted to join and learn how to make Thai dishes. I was so proud and happy to share my knowledge. Everything else fell into place.
5. What did you study in school?
I studied up to grade 9 in the local school.
6. How is your life different from what you pictured at 20?
It is so different!! Just imagine, I used to lived in a house with 15 people in 30 square meters between four walls. But now I own two houses and can support my family and my parents.
7. What was your biggest disappointment and how did you overcome it?
One day I learned that someone found a way to log into the booking email and was cheating my customers out of money, trying to discredit my work and my team. We learned about this, and took responsibility with our customers, provided refunds. This was tough, but our credibility was restored after that.
8. Advice for other women?
As women we need be active, diligent, patient and keen to learn new things.
9. Do you think it is difficult for women in Thailand to start business? How did you do it?
Yes it is very hard. The most important lesson is to find and keep a good team around you. Depending on intelligent and dedicated women has helped me start and keep my business successful.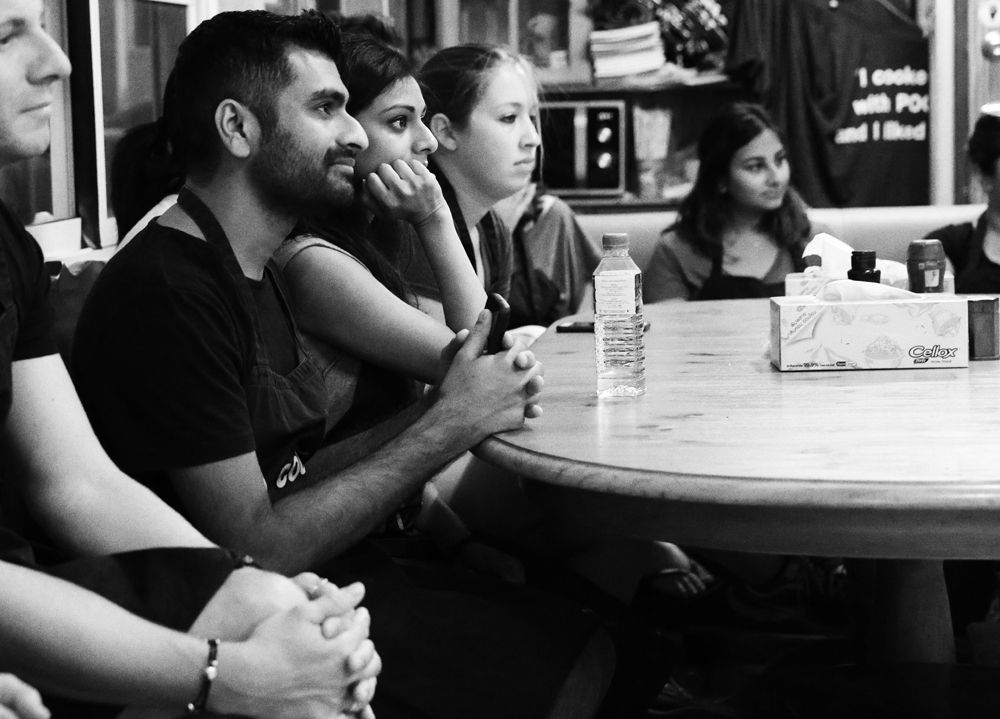 10. Where in the world do you feel "tallest"?
At work, When I teach people how to cook and they loved it!
11. What extra-curricular activities/hobbies are you most proud of? Why?
When we support other projects/activities in the community. This way we are able to share our success and happiness with others.
12. What do you want to be when you grow up? Future goals/challenges?
I just want to be like this (to me this is happiness): teaching people how to cook, working with my wonderful team and hope that one day our Thai food will be so famous that many more people will join us at Cooking with Poo & Friends.
13. What fears are you still hoping to overcome?
I worry sometimes that Thai food will fall "out of fashion" and people will lose interest in the cuisine.
14. Any regrets in life?
One disappointment was a fire that burned down my home/cooking school several years ago. But we rebuilt and persevered.
15. What inspires you?
It brings me happiness to see joy on my customers' faces. They are in Thailand on vacation, and they are so excited - it is so contagious! I also love seeing families in my cooking classes, learning together, laughing and having a great time.
16. What are you hopeful about?
I hope more people love and want to learn about Thai cuisine.
17. What are some ingredients to a good life? Fulfilling work,
Time with family and loyal and supportive friends
18. What advice would you give your 14-year-old self?
Study hard and help your parents more!

19. What are you reading now? (what books do you gift most and what are your favourite reads?)
I love picking up different cookbooks to get ideas and just read about other chefs.

20. Who is a WOW Woman in your life who inspires you, and why?
My mother - she is a hard-working person, has lots of patience and will forever be a role model in my life.

21. Where can others find you/your work (links to websites, blogs, etc.)?
website: cookingwithpoo.com /
facebook: /cookingwithpoo
twitter: @cookingwithpoo
instagram: @cookingwithpoo
Please visit the website & email me if you need more information: cookwithpoo@gmail.com