Designer, Business Owner, Artist, Fearless Entrepreneur, Marfa, Texas, USA
Fearlessness to change careers, hunger to start anew and evolve, yearning to trade high risers for the high desert of the West Texas, USA. This was the path Ms. Gabrielle Gamarello pursued by deciding to follow her gut and creative drive to evolve. When I met Gabrielle she was living and working in a community about an hour from the US-Mexico border. At the time I was only treated to a snippet of her journey, nevertheless I was so curious about the transition from San Francisco, Tokyo and New York to Marfa, Texas. Please enjoy the WOW Woman feature about a journey, a leap of faith and all that good (and challenging) stuff that followed.
1. Name.
Gabrielle Gamarello.
2. Where is your hometown?
I grew up in Hasbrouck Heights, NJ, a small suburban town up until middle school. We then moved to the country side for a quieter life where my sister and I could ride horses and live a little slower in rural New Jersey, USA.
3. What is your profession/career/title/self-label/designation?
I am an artist, entrepreneur, designer, Reiki healer, jewelry maker, writer, the list keeps growing as I continue to let myself explore and grow. I used to think I had to be really great at just one thing. I love to curate, create, sometimes try to tackle the whole vision myself. This required for me to learn how to do many things and not rely on others all the time. I have grown fond of being a team-player as I also realized one cannot do it all. I suppose I don't want to restrict myself or abilities anymore.
4. What was the journey like to get where you are (in life and career-wise)? What are some accomplishments you're most proud of, and what was the turning point to set you on a current path in life?
My journey has had its ups and downs, it took me a while to figure out what I was supposed to be figuring out. I am most proud of my inner work and finding out who I really am. Living in the desert and having this beautiful environment to myself has given me the space to look inward.
In the past I was enamored by all of life's materialism and this idea of what success was… it took me time to realize that all that stuff comes and goes and doesn't have staying power no matter how much you try to control it. What is ours is our true selves and being responsible for how we show up in the world. How we find that inner voice and let it speak. It took years for me to shed off all that didn't serve me.
Every experience and employment prepared me for taking a leap of faith in myself. I would be remiss to not mention all the people on this journey, whether thought of good or bad at the time, that gave me a chance or straight out rejected me. I can see now the positions that were creative were the very ones that allowed me to shine. After graduating college with a Bachelor of Arts in Painting from the Rhode Island School of Design (RISD), I thought I would find work as a painter. Painting had been a great outlet for me to experiment. I learned so much in terms of color, composition, art theory, etc. It was not difficult for me to to apply these lessons to any job I pursued. My parents worked in fashion design and I had an informal education from them. I found myself looking for more financial security and the ability to grow.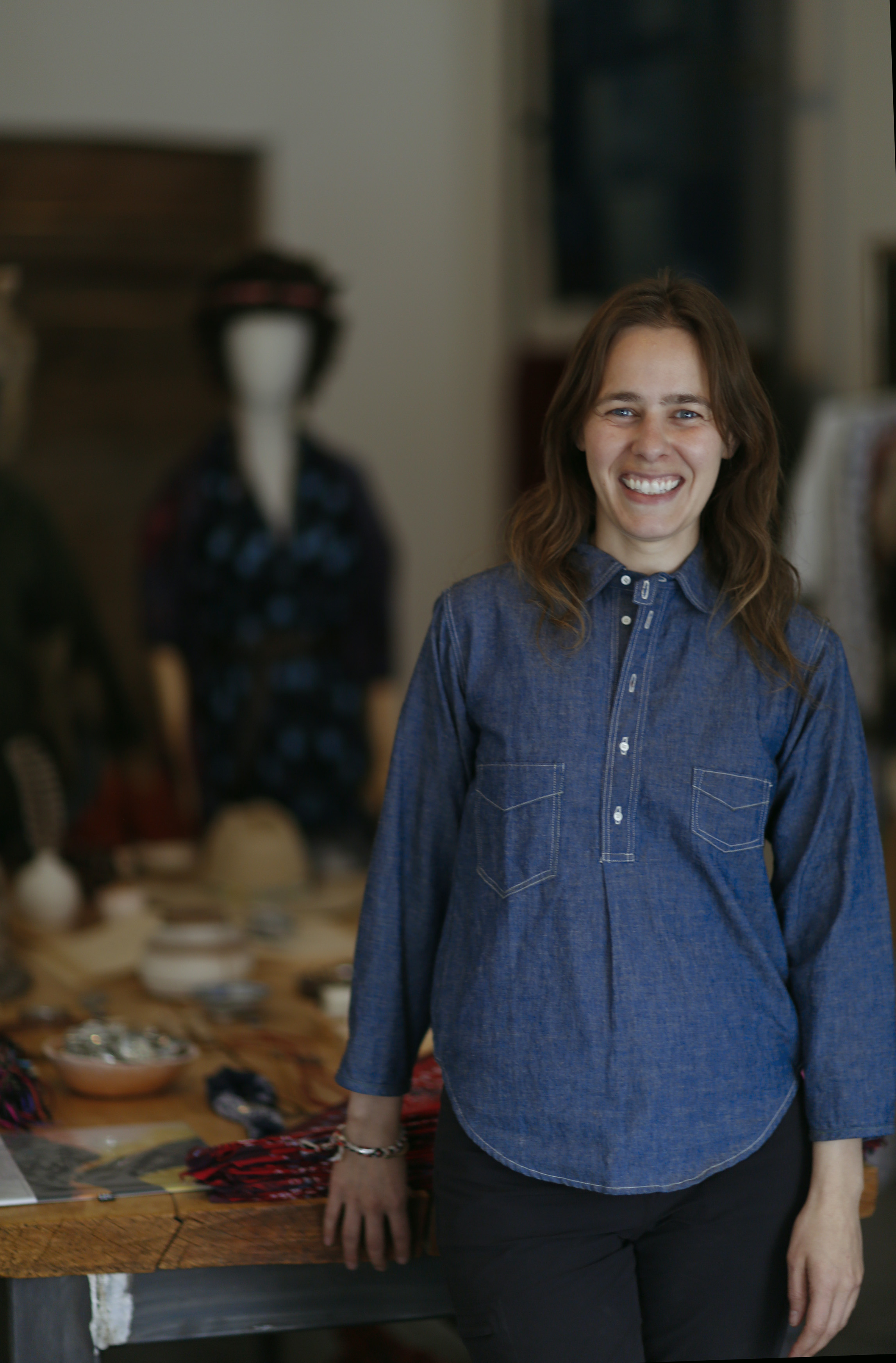 I started working as an intern at the Costume Institute at the Metropolitan Museum of Art in New York City, then went on to styling and working in a vintage showroom. These early jobs in New York, were fun yet I felt a bit ungrounded. Perhaps in hindsight I wanted further challenge and responsibility. I had more in me to uncover in terms of what truly brought me happiness. I had to fine-tune my talents so I could have confidence in them.
I wanted to pursue fashion design and started working for Free People in Philadelphia. This job was like going to college all over again. I was a quick learner and worked very hard. On the surface, these positions can be very alluring with the perks of traveling, shopping, clothing, but at the root very competitive with long hours and high pressure to create. I was surrounded by some of the most talented artists and designers I think I will ever meet and learned a great deal about the fashion industry. Sometimes, it's okay to have these experiences that are mind rich and expansive, in lieu of making a lot of money. These years gave me the confidence to continue my fashion career.
I pursued a position at Levi's in San Francisco- a job tailored for me. I applied for a design position and remember receiving a call saying that I did not get the job, however, they wanted to create a position for me as Concept Designer. I would be on a small team and we would create inspiration in house for the greater design team. This was in essence a dream job for me, to travel, be a storyteller, create. It was a special time for the company with a lot of energy placed on a "think tank" mentality, being mindful of the environment on a global platform and working with artisans from diverse backgrounds to create a better way of designing clothing. Experimentation and taking risks were encouraged and the world opened up even more for me. My prior days of traveling to factories were now replaced with off-the-beaten path locations, incredible inspiration whether through architecture or nature in some of the most wonderful locations, and meeting individuals who were putting their mark in the world with their creativity.
On one such set of trips I came to Marfa, Texas for inspiration prior to continuing on to Kyoto, Japan. I fell in love with Marfa in the first few hours. In felt like it had been years since I had seen stars at night! The air was fresh and the mountains in the distance helped me feel grounded. I was only here for a few days, but could not stop thinking about my experience. Then while in Japan I loved the subtle differences that these two places held, and the impression made on me.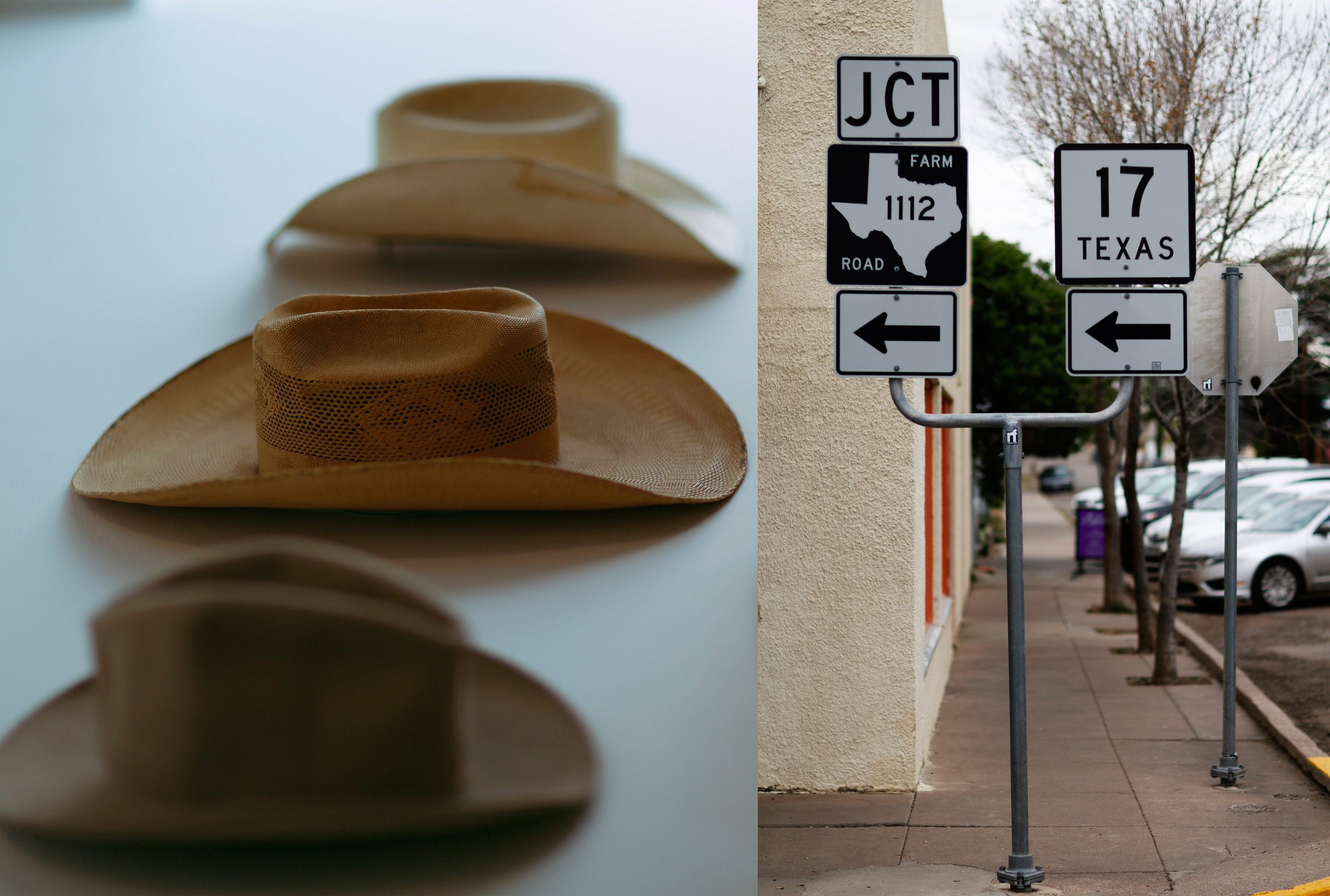 That was really it, I knew Marfa was calling for me. It took about a year to organize, and then purchase an old storefront downtown. The first few years were spent renovating and bringing this two-storey adobe building built in the 1880's back to life. We, my business partner and best friend Beau Buck and I, opened Mano Mercantile a little over three years ago. The story line has always been the Far East meeting the Far West. I love the idea of those elements interchanging, in and out of context and bridging two seemingly different worlds together in harmony.
I find many things in life tend to evolve or repeat. My work at Levi's made me realize that I was doing all these jobs, wearing all these hats for a reason; I could do this all on my own! It was terrifying to walk away from a steady pay check and security. When I finally let go of the preconceived ideas about success and followed my creative path, I found myself supported with all the resources I needed to get by.
THERE IS SOMETHING MAGICAL THAT HAPPENS WHEN YOU LET IT ALL GO. SUDDENLY THE UNIVERSE SUPPORTS YOU AND PUTS YOU IN TOUCH WITH PEOPLE AROUND YOU TO HELP YOU GROW AND CONTINUE YOUR JOURNEY.
Its not always easy, but you end up getting addicted to this freedom, finding yourself and then just keep going.
Having a shop for us has always been about sharing our love through creation, curation, representing our artist friends and connecting with our audience. Marfa is a special place in that people travel from all around the world to visit, mostly to see Donald Judd's permanent collection, but the region itself is breathtaking with Big Bend right in our back yard.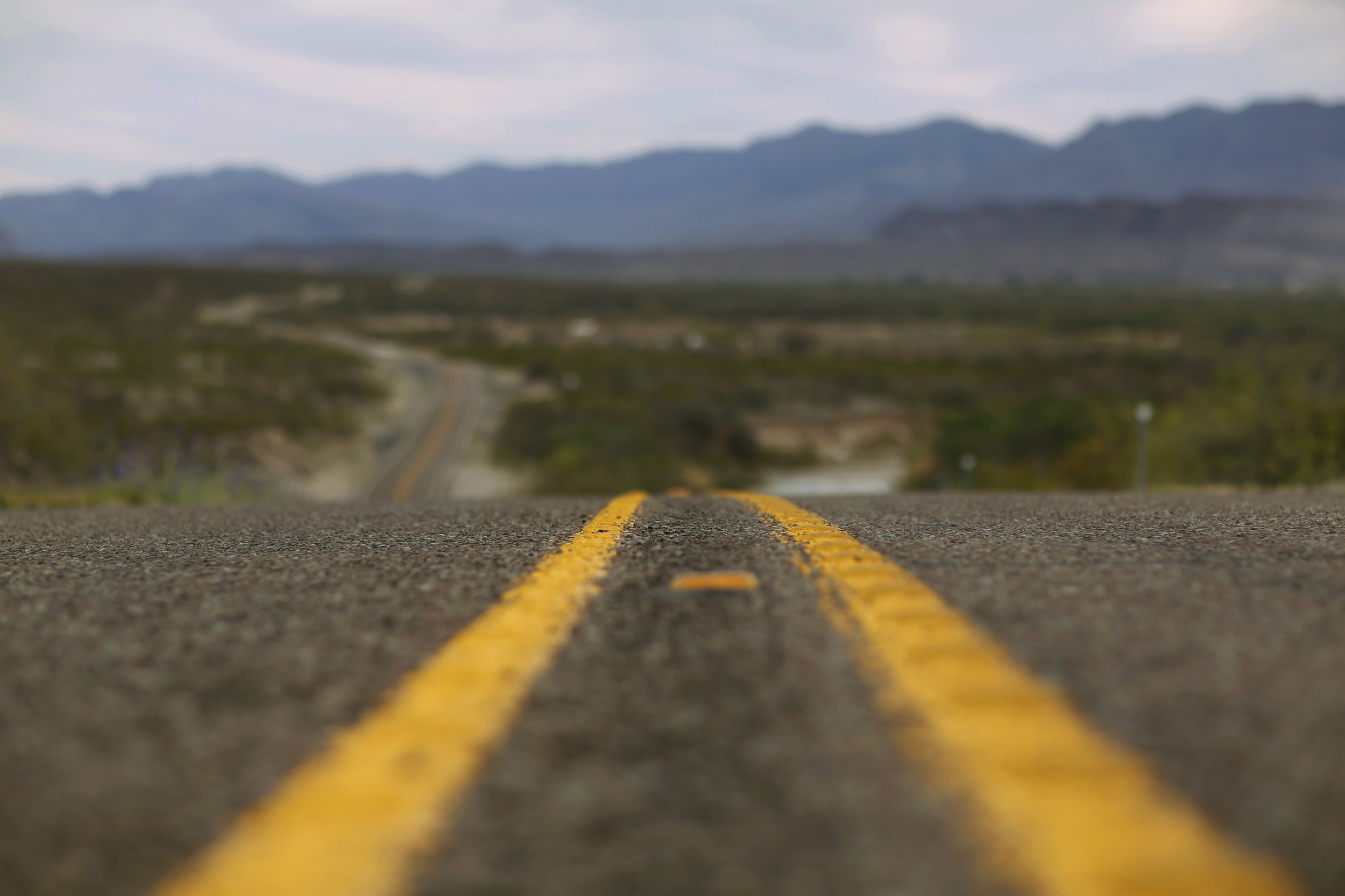 I am pushing myself harder now than I ever have in my career. There is a vulnerability with putting yourself out there. I try to channel that into doing the best work that I can going forward. I am grateful for this freedom.
5. What did you study in school?
I studied Painting at the Rhode Island School of Design. I met Beau there, he was majoring in Printmaking and we would work together, make things and sell them. We said that one day we would have a store. We just moved our studio into the store space, and are now working on items and running the shop. It is very reminiscent of our days at RISD.
6. How is your life different from what you pictured at 20?
When I was 20, I was so focused on this idea of "making it". I had goals for 21, 24, 30… it was always about more money, more real estate and the like. I worked extremely hard to achieve those goals and I did meet them. I wonder though if I could go back in time and have the knowledge I have now, I surely would have made different choices. I would have cared less about what others thought of me or spent less money on things that weren't truly loves for me, things I thought I needed to have or acquire. I have learned to let go of the past, so no, no regrets. I am grateful I have found a better way of living, despite it still being a lot of work. My true self is not compromised making it infinitely much easier to go with the flow of life.
7. Was there a time when life knocked you down or out and how did you get back up on your feet?
Yes, many times. I think we are presented with the same lessons/ tests until we learn from them and can truly grow. When I was younger, I was stubborn and would not budge from my vision. This made life quite difficult when you think you are the one in control, instead of staying present and just knowing that you can handle life as it comes and trust that the universe has your back. It may take a little longer but ultimately always ended up great when I look back on it.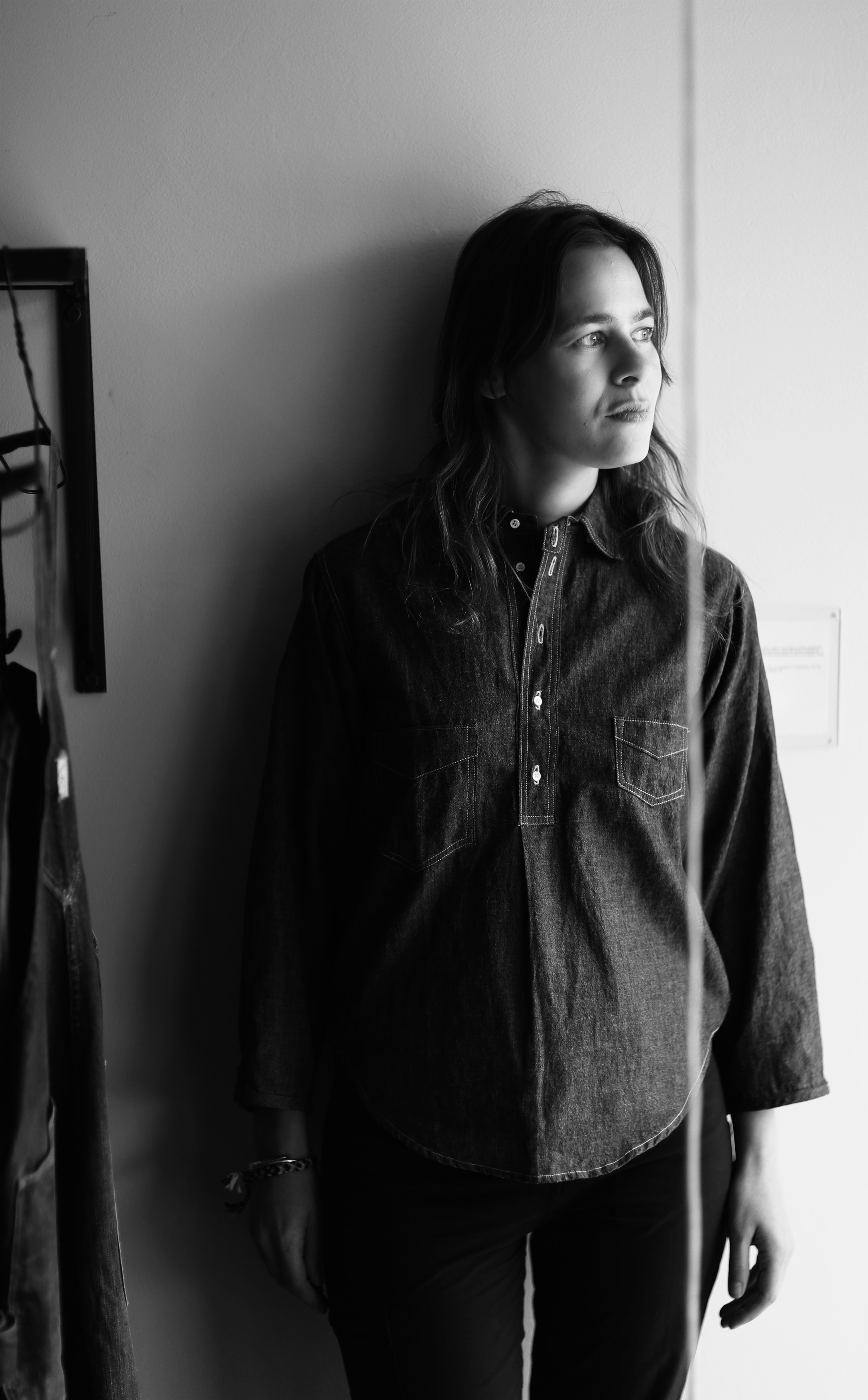 8. Advice for other women?
Sometimes we lose our focus. As women we love and help others, whether that be family, relationships, friends- we can over extend and forget to focus on ourselves. We put our dreams on hold and sometimes don't get back around to them for a while.
My advice would be to find that balance, to experience life as a gift and know that all that it has to offer is yours if you truly want it. There is always a choice and always another direction to take if your situation isn't exactly what you want it to be. When you follow that inner voice, it always brings you back to your center, to the path you were meant to take.
9. Knowing what we know now in current political climate, can women be "all that we can be" in today's world? What is the way forward, as you see it, for "feminist values"?
We are all on such different journeys. I think we should always be 'all that we can be' no matter what we are doing and the we includes everyone. And to grow, support and be a part of the community that celebrates the divine feminine in all beings.
10. Where in the world do you feel "tallest" (i.e. where is your happy place)?
My inner, where I go when I meditate and also being in/ around the ocean.
11. What extra-curricular activities/hobbies are you most proud of? Why?
My yoga practice because it has challenged and alluded me most days. Recently, I have been noticing those changes in my strength when you find you are getting into a position that you were so far from a year ago. There is a satisfaction of seeing progress over time, a foundation to grow on.
12. What do you want to be when you grow up? Future goals/challenges?
I cannot think of anything that I am not already doing. I would like to see how far I can expand this particular direction, continuing to support myself and friends as artists, to keep the spirit of pure creativity alive. We recently opened up the upstairs apartment of the shop for people to stay when they are visiting Marfa. We called it The Artist's Residence and its on AirBnb. We have been working on a new project and are beyond excited to announce MANO's new sister store, SiSTER GAiYA that opened this summer.
It's a fun time as I have stuck with this path long enough to see the fruits of its labor. I am excited to keep up the momentum and just see where it takes itself.
13. What fears are you still hoping to overcome?
A fear of a complete surrender to the universe.
14. Anything you'd do differently, if you had another go at life?
I would have been a veterinarian.
15. What inspires you?
West Texas light, knowing that everything is working out exactly as it needs to in divine timing, ocean sounds and the feel of warm skin from the sun, my dog Marlo's smiling disposition and unconditional love.
16. What are you hopeful about?
Humanity.
17. What are some ingredients to a good life?
Honesty, integrity, meditation, eating clean and laughing a lot.
18. What is a quality you most love about yourself and why?
Kindness. It allows me to step into another person's shoes.
19. What advice would you give your 14-year-old self?
Let your intuition always be your guide. Unlearn most lessons passed down as soon as possible and start thinking your own thoughts.
20. What are you reading now? (what books do you gift most and what are your favourite reads?)
A good friend recently recommended If Woman Rose Rooted by Sharon Blackie which has become a new favorite of mine. It shares stories (modern and ancient) about women coming into their own. The author lives in Ireland and many of the stories are derived from Irish native folklore and magic.
21. Who is a WOW Woman in your world who inspires you and why?
My sister Ashley. She has an incredible eye as a photographer, is studying to be an herbalist and rides motorcycles. She is my hero and whenever I start doubting myself, she is my beacon.
Can you nominate three (or more) women you know who perfectly fit WOW WOMAN description?
Natalie Chanin of Alabama Chanin has revived the cottage industry in her home town of Florence, Alabama. She works with local women to create her designs as well as a sustainable work platform. I admire her problem-solving abilities while supporting and creating work for her community. alabamachanin.com

My friend Kris Chau. She is a magic wonder who paints the most beautiful paintings you could possibly dream up. She is also the fashion designer for her brand DaySpaceNight. I admire her persistence and never giving up. No matter what, she is always ready to take on that next challenge. www.krischau.com

Georgia O'Keefe. I have always admired her strength to move to the desert, leaving all else behind, in favor of her work and life. She follows that inner compass whether by circumstance or through impulse to find solace.
22. Where can others find you/your work (links to websites, blogs, etc.)?
You can find me in Marfa, TX; website: www.manomercantile.com and sistergaiya.com and on Instagram @manomercantile & @sistergaiya