Kitesurfer, Business Woman, Traveller, Paracuru, Brazil
Rianne inspired me because she has figured out a life that is different from the expected societal norms. She raises her daughter as an active mother, independent woman, in a world full of adventure. I met Rianne in Brazil where her little girl was getting acquainted with local children as her mother figured out a way to combine education with sports and friends. Rianne is an incredible kitesurfer and she was shredding the waves and jumping, all while her daughter watched. How did this Dutch woman whose career started in an elementary school classroom end up in the north of Brazil kitesurfing? You'll have to read for yourself.
The following answers are written by Rianne (with very minor spelling/grammar tweaks from me). Please be cognizant that English is a second (or third/fourth..) language and is not 100% perfect . Perfect is boring anyway! Enjoy.
1. Name.
Rianne Huigen.
2. Where is your hometown?
At this moment, Playa Del Carmen, Mexico.
3. What is your profession/career/title/self-label/designation?
Traveler, Mother, Kitesurfer.
4. What was the journey like to get where you are (career wise)? What are some accomplishments you're most proud of?
My journey and realization about the world started when I was about 14 years old. I was on holiday with my parents and my older brother, in a very small surfer town in Isla Margarita, Venezuela. The town was tiny, with not a lot more to do than surf and windsurf. There on the beach was a kind of Day-Care Center for kids, so the parents could surf. The woman in charge was from Germany, living in this beautiful paradise. When I saw this, it made me realize that I could also do something like that, something different. I didn't have to pursue an unnecessary degree and be destined for a boring job in in The Netherlands. This dream "stuck" in my head like a comforting thought, that its OK to be different.
But after high school, I had to study something, and of course my parents wanted me to have something to fall back on. I love working with people and with kids, so I became a primary school teacher. But as soon as I graduated, I booked a ticket to go backpacking in Asia, it was supposed to be for 3 months. It felt like booking the tickets to my dreams coming true, my life was about to start! After 2 months of traveling in Thailand, Laos, Cambodia, Vietnam, Malaysia and Singapore I didn't want to go home, I couldn't picture myself again in a classroom full of kids, I needed to find a way to stay. Thailand was the place where I fell in love with the underwater world, so I decided to go back there and do my Dive-Master certification.
Diving became for a while my greatest passion, I kept on traveling and working as a dive master. After a year I went back to The Netherlands, to get rid of the apartment that I was renting, my car, and all unnecessary stuff, to set myself free to travel the world. From The Netherlands I moved to South Africa, where my journey continued and I found work as a diving instructor. During my time working and travelling as a diving instructor I learned that work doesn't have to feel like a chore, as long as you truly love what you do. And I loved it, every day felt like an adventure. The underwater world is magical! Its feels like a fairy tale, always moving, and changing. It's like entering a dream.
From my travels all over the world I learned that we need such little to be happy, and everything you need to be happy is within. I carried on with this lifestyle until I arrived in Mexico, to start work as a whale shark diving guide. It was one the most amazing jobs I've ever had, I still can't believe I actually got paid to be with these amazing creatures. Being in the ocean makes your realize just how much unseen beauty there is out there and just how much protection it needs. When I got pregnant, the long hours on the boat wouldn't give me the freedom that I needed to spent time with my daughter. I switched roles and now rent out holiday apartments to tourists. I can do this online and remotely, giving me freedom to travel again. For the last 3 months I have been staying in Brazil in a small town Paracuru, definitely one of my favorite places in the world. The people, ocean, and food, everything here inspires me.
As for our plans, after the high season in Mexico, we will be going to the Dominican Republic. New adventure begins.
5. What did you study in school?
I studied to become a primary school teacher.
6. How is your life different from what you pictured at 20?
When I was 20, I constantly dreamt about traveling the world! But I always thought there would be a moment that I would return to Holland to start my 'adult' life, that passion for traveling would be something temporary. Now I realize that my perspective, about what it means to "become adult" has altered completely, and that I probably will never return to The Netherlands. A child's curiosity and a wonderment are still very much alive inside me, and I like to keep it that way.
7. Advice for other women?
Follow your dreams, everything is possible. To not let fears hold you back from making changes.
8. Where in the world do you feel "tallest" (i.e. where is your happy place)?
My happy place is in the ocean! It's the place where I feel free. It doesn't matter if I'm kitesurfing, swimming, diving or free-diving. Its my therapy, the water washes everything away, afterwards I feel clean and light.
9. What extra-curricular activities/hobbies are you most proud of? Why?
I think that would be all my sport where I'm passionate about. Everything that you do with passion you do with your heart, you feel it, you love it, it makes you feel alive. I used to have that a lot with taekwondo when I was younger. I trained very hard to reach my black belt. Now I feel it with kitesurfing, when the wind blows, I like to drop everything and go to the beach!
10. What do you want to be when you grow up? Future goals/challenges?
When I grow up I would like to start living in a more remote place. I would like to find a place where there are good waves and wind, and create a self-sufficient lifestyle.
11. What fears are you still hoping to overcome?
I think most of the fears I have are around my daughter. For example: What if there comes a point when she doesn't want to travel any longer, and chooses to settle down in one country? Life was always very easy before I had a daughter. Every choice that I would make, was just effecting me and nobody else. Now I'm choosing for her. What if I'm choosing wrong? The way to overcome it is to keep on living in the moment. The fears are always about things that could happen in the future, but truly, noone knows what future will bring or how things can change. So I'm trying to take life as it comes, live in the present, and enjoy every moment of it.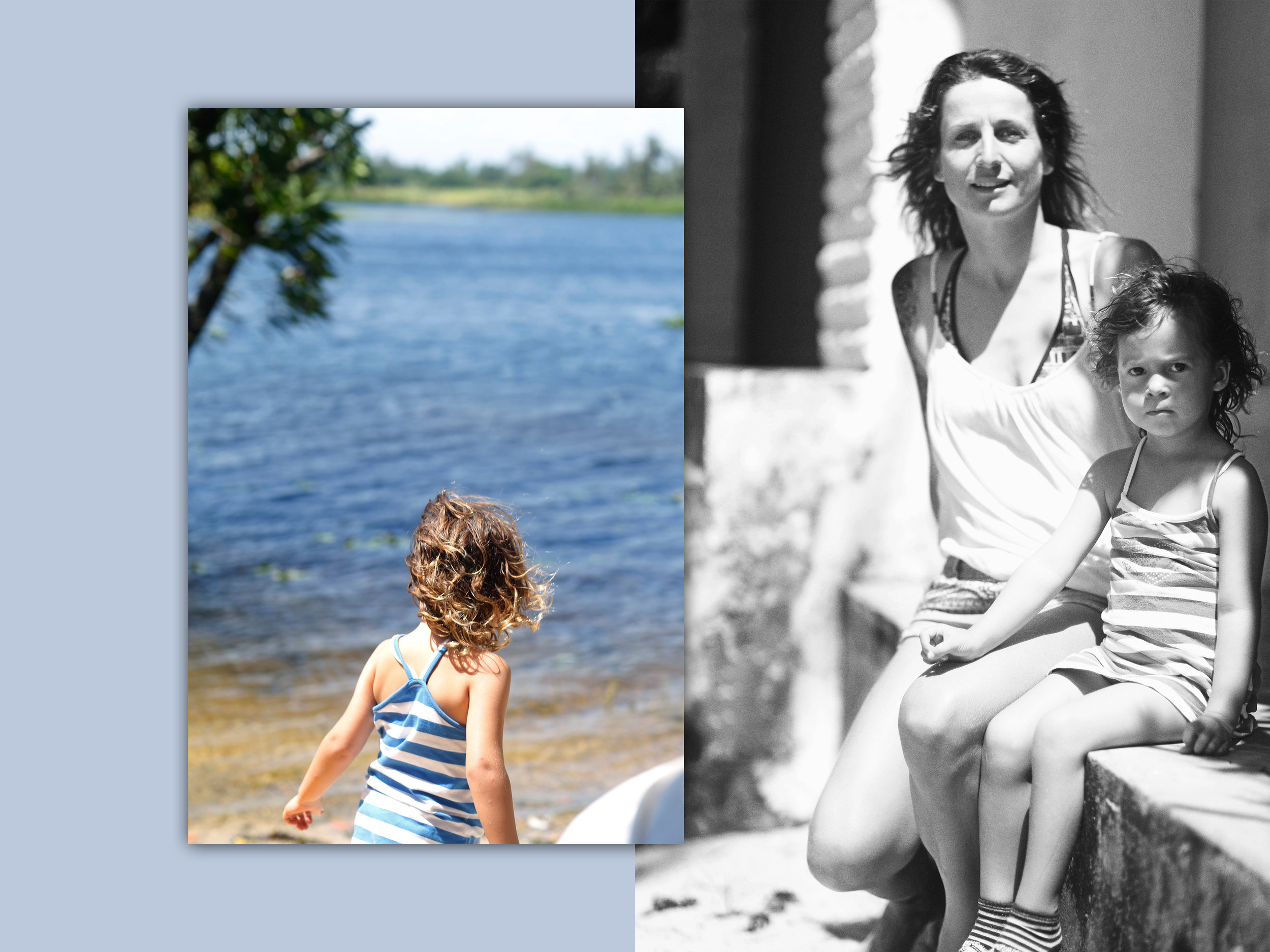 12. Anything you'd do differently (if you had another go at life)?
No. I think every step in life that I made, brought me to the place where I am right now.
13. What inspires you?
People! I love hearing their stories. Every time I travel somewhere, I meet so many different and inspiring people. Everybody has a unique background, path in life, special story. It makes me enthusiastic about life and about the beautiful world where we are living in.
14. What are you hopeful about?
Humanity. People are becoming aware of the world around them, getting more conscious about sustainability, conservation, climate change etc. In my world and networks of friends, I also see people getting involved in great projects, caring and learning about environment and marine life as well as educating others.
15. What are some ingredients to a good life?
Love, nature, wind and waves.
16. What advice would you give your 14-year-old self?
To not worry.… everything is possible.
17. What are you reading now? (what books do you gift most and what are your favorite reads?)
The Power of Now, The China Study.
18. Who is a "WOW Woman" in your life who inspires you (and why)?
I think every woman has a WOW Woman inside! Women that inspire me are the ones not afraid to "let their inner WOW WOMAN out". For example there is this Dutch lady, her name is Miriam Lancewood, she decided to leave the 'normal" world behind and moved out to the wilderness. This, I find inspiring. Somebody that chooses to be who they want to be.