Non Profit Management, Community Outreach, Social Media and Marketing Director, Tarot Card Reader, Nosara, Costa Rica
When you drive along the western Costa Rican coast, you might blink through a tiny village of Nosara. If you choose to stop there to enjoy the surf, have lunch or retire in peace (as some well-off Americans have done), the last thing you expect is a happy Canadian running a local non-profit organization. Vive el Sueño, or Live the Dream, helps entrepreneurial ticos (locals, as they self-associate) bring business ideas to fruition. Through skill-nurturing workshops and training classes, locals gain self-assurance and improve economic standing of their local communities.
Under Rebecca's organization and in a very community-friendly setting, budding entrepreneurs take classes in business planning, marketing, English language basics and even receive a logo design along with professional photos. They present their project to the class and sometimes, for the first time, are asked to verbalize their dream. Rebecca boasts about program participants achieving goals of buying a new house, purchasing their first company van, or finally affording a vacation to the neighbouring Nicaragua. Vive el Sueño success stories melt your heart.
The goal is to support opening of small businesses and to establish an ongoing mentorship to program participants to foster continued growth in their businesses and connect newly graduated business owners to crucial resources such as grants, loans, and professional services.
Rebecca is a resilient fighter. She tried her luck in variety of jobs in Canada (truly, a kaleidoscope of occupations), fought through Crohn's disease surgery, and moved to Costa Rica on her own. She started out by living, working and surviving on several dollars a day wage, living among the locals (not on a villa on the beach as I'm sure Northerners will assume), then proceeded to master Spanish from scratch and blended into the local Nosara community. The cultural integration has not been easy at first, as Rebecca is first to point out. Living in paradise is not a vacation 24/7. It took over five years to just be able to communicate, and truly "get" the way people think, react and feel about topics, events, each other and about foreigners. Somehow Rebecca's heart led her to this occupation, and helped discover a niche in a combined love for the beauty and people of Costa Rica.
It's apparent that Rebecca persevered and adjusted after immigrating to a completely different society from the only one she knew her whole life. I commend her for taking that leap and for being such an incredible example of what it means to open the heart to the new experiences and let challenges shape and form tougher insides. Please enjoy the Q/A with Rebecca Schmidt.
1. Name.
Rebecca Schmidt.
2. Where is your hometown?
Peterborough, Onario, Canada. I also consider Toronto to be my hometown. I now live in Nosara, Guanacaste, Costa Rica.
3. What is your profession/career/title/self-label/designation?
Non Profit Community Outreach, Social Media and Marketing Director/ Tarot Card Reader/ Self Healer/ Dream Chaser.
4. What was the journey like to get where you are (in life and career-wise)? What are some accomplishments you're most proud of, and what was the turning point to set you on a current path in life?
I was born and raised in my beloved Canada in a loving and supportive middle class family. I graduated from Brock University with a Bachelors in Recreation and Leisure Studies and lived in several cities in Ontario, Canada. I worked in many industries and was constantly looking for something that felt right and would make me happy. I dabbled in many industries: Sales and Marketing, Restaurant and Hospitality, Television and Film in the Art and Production Departments and even in Toronto's Parks and Recreation department, where I was cutting lawns and maintaining city parks.etc)
I became physically ill when I was 25 and was diagnosed with Crohn's disease. After three years of struggling, I had a small bowel resection where a foot of my bowel was removed. I recovered and I continued to try to find "my happy". My goal was to have a job that I loved, financial stability, a home, a marriage, children, a healthy and active lifestyle. I also wanted to travel. Instead I was living in a basement apartment in Toronto, struggling financially, battling depression and living an unhealthy lifestyle. I am thankful for my amazing friends and family at the time, but my life was not even close to the one I dreamed about. But I just kept trying!
Then one day, almost ten years later and at the age of 34, it all changed. I joined friends at an entertainment complex in Toronto and entered my name into a draw to win a trip. It was a trip to Costa Rica. I had dreamed of going to Costa Rica for years and hadn't been in a financial position to travel. After the announcer called my name and I won, it all felt like a surreal moment in my life...one of those moments when it feels like everything slows down and you remember that you may just believe in something magical.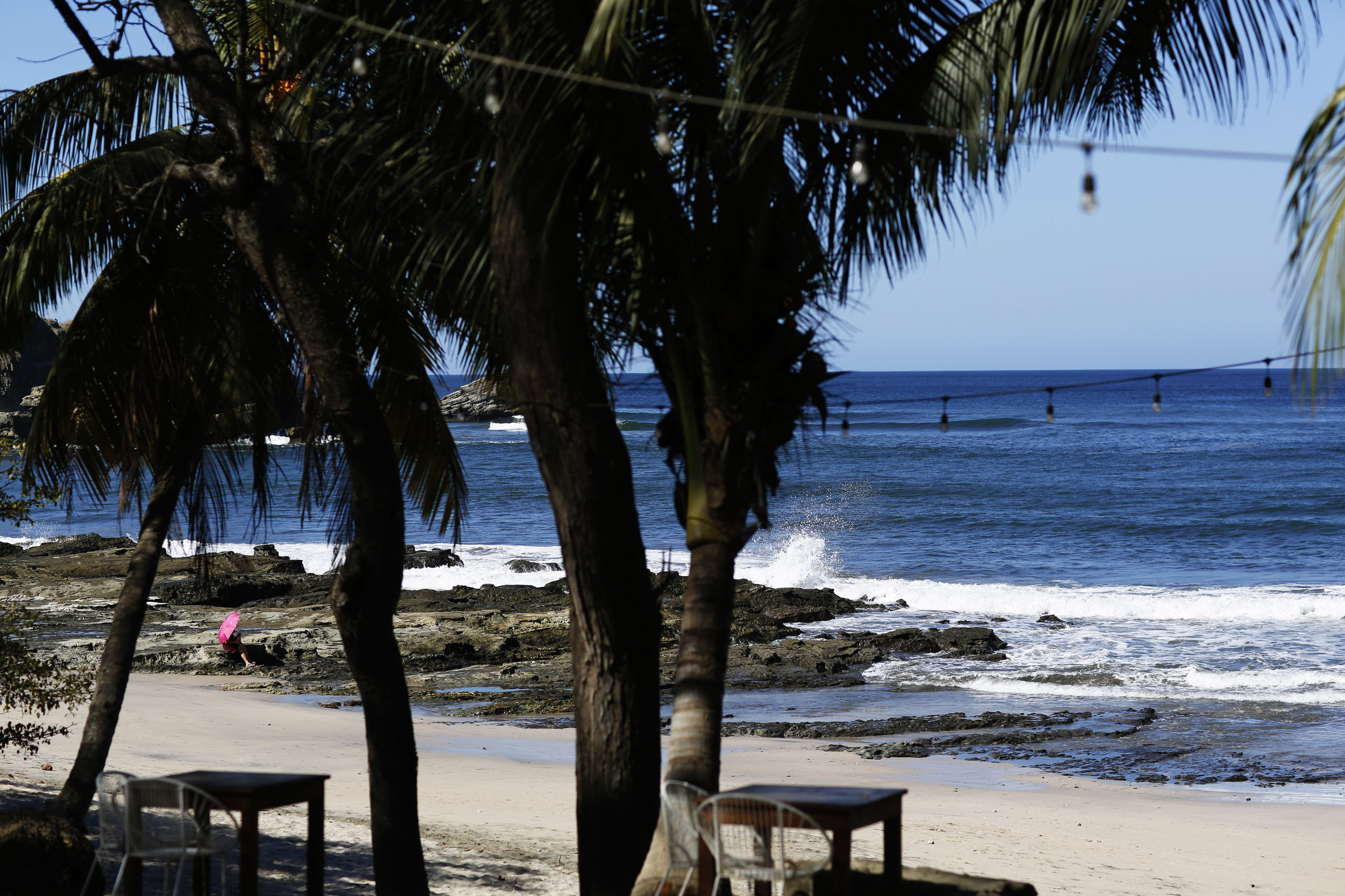 The minute the plane landed I felt a feeling of being at home that I had never experienced before.
So I went on that trip in January 2012, to celebrate my 35th birthday with my amazing friends. The minute the plane landed I felt a feeling of being at home that I had never experienced before. Our vacation was fantastic and we randomly ended up in a town called Nosara for one night and I knew I could live there.
I had another of those surreal moments when we were driving by a sign for the Nosara Yoga Institute (NYI). I had recently started practicing yoga after a long hiatus and often used YouTube videos that were filmed in Costa Rica and dreamed of practicing near the beach. When I returned to Toronto, I decided to move to Costa Rica the following fall and to apply for the 200-hour Yoga Teacher training at NYI and I was accepted! I decided that if I was going to live my dream in Costa Rica, I would need to get healthy enough to live that active lifestyle. I quit smoking cigarettes (smoked for 18 years), slowed down my drinking (A LOT), joined a hot yoga studio and began cleansing my body. I had no idea this was the beginning of what many might call my spiritual awakening-a spiritual healing journey that guides you back to one's true self.
I did not grow up religious and had no spiritual practice or connection. My family spent most of our Sundays in nature so that was my "church". I believed there was something greater than us humans but had no idea what. I remembered a story of my grandfather thanking all the staff at his nursing home before he sat down to dinner and passed away, and I believed he knew it was his time. But saying namaste out loud at the end of a yoga class made me feel like a fraud. My idea of angels were as decorations at Christmas and the word God frightened me as I wasn't even sure if he was real. I considered myself an atheist. So when I started seeing number sequences everywhere I thought my mind was playing tricks but there they were..11:11, 1:11, 2:22, 3:33,etc etc. EVERYWHERE...I googled it. Millions of other people had asked the same question and I was astonished at the number of articles and books being written on the subject. Angel numbers. What??? So I googled Angel Numbers Toronto and a website popped up offering Angel Readings so I booked one. I had no idea what it would involve. It ended up being what many call a "psychic reading" and that hour changed my everything.
Around this time, I made the connection that a few of the diseases and disorders that I had been diagnosed with (Crohn's, Seborrheic Dermatitis, and an eye condition) were all autoimmune diseases. I learned that autoimmune disorders stem from our nervous systems being out of balance and I made an intention to learn about mine. At the time I had no idea of the power of intention.
In October 2012, after quitting my job, and tying up a million loose ends, giving away almost everything I owned and hugging my loved ones "see you later" I moved to Costa Rica.
Alone, With two suitcases and a backpack, I moved to a town that I had been to only once previously, for less than 24 hours.
I had friends that had coincidentally moved to the same town a few months before with their young children and knowing someone gave me a little extra strength. The only Spanish I knew was hola (hello) which I thought was spelled "Ola" and I was nervous to say, como estas (how are you). So there was that.
The plane landed, fear filled me and I cried. I was here after so much anticipation and it was REAL. I was in a foreign country, basically by myself and I had given everything away including my beloved cat (to my parents thankfully). I had booked a casita for a month and would start my yoga training shortly.
I was tested immediately upon arrival. It was pouring and most stores and restaurants had closed for the rainy season. Two days later I experienced my first big earthquake, a 6.6 that had me ducking under the kitchen counter. The first thing that struck me was how very loud it was. Everything was shaking and rattling and I was watching the fridge bouncing up and down off the floor, things were falling and I heard glass breaking. I giggled a little at the fact that I was still holding the knife in my hand. It felt like time stopped. It eventually stopped shaking and I rose from my hiding spot and saw the glass covering the chairs I had been sitting in only 20 minutes before. My bed was covered in glass from a six foot panes that crashed with another loose one swaying just above my head.
The next day I realized something wasn't right with me. I was constantly listening for sounds of another earthquake, any large truck that drove by had me jetting out the door, my showers became warp speed as I did not want to have to run outside in just a towel. I began looking for the best routes out when indoors and I became fearful of exploring new places. Years later I realized that the trauma from that earthquake had triggered other repressed traumas that I had no idea existed. Was this me getting "jungled" as many newcomers do? And so the meat grinder, as my good friend calls the journey into relocating to Nosara began. (Meat Grinder= moving to paradise in search of a simpler, happier easier life but instead feeling like you have been shoved through a meat grinder as experience after experience pulls you out of your comfort zone, slaps you in the face and forces you to take a close look at all the things you have been burying deep inside). There are less distractions and many people in our expat community will agree that they feel they have been called here to "awaken" or "heal" whether they like it or not.
Some call it a vortex. I now call it home.
The beaches and jungles ARE beautiful so if I had to do this tough healing work I was grateful it was in such a stunning environment but even life in paradise has it ups and downs. It was a big adjustment. Much bigger than I could have ever anticipated. Things not many people talk about include: Visa runs every 90 days, fewer conveniences (think Amazon, direct deposit, etc), fewer medical services, 3rd world or some now say 2nd world country, high-cost imported foods and goods, plentiful insects and lots of them (as well as reactions to them), dirty and bumpy roads, dry, hot and VERY dusty summers that lead to water outages and shortages, viruses, parasites, heavy rainy seasons that bring flooding, power outages, lightning storms that can fry your electronics, dampness and mold, and you are almost always dirty. I tell my friends and family that if they like camping or cottaging then they will like it here but if you are a city person who screams when they see an ant then as it can be, you may find yourself way out of your comfort zone. I still thank my parents for taking me camping and having me in the outdoors since I was a baby.
My month-long intensive yoga teacher training peeled back many layers, taught me about our emotional body (what the heck was that?) and forced me to learn to talk about my feelings, something I was very uncomfortable with, especially to strangers. I began to gently unravel my past and to heal.
I also found tarot cards. There was a point during this heavy healing work and delving into my past where I began suffering from PTSD symptoms (no, it is not just for soldiers). I could barely leave my house. I had anxiety and panic attacks, I began creating stories in my head of worse case scenarios and started fully believing them sometimes for a few hours at a time. A voice inside my head would tell me to do things to hurt myself (thankfully I fought back)...it was frightening and I felt trapped, alone, lost and I had no idea what was going on and who I could trust in this small gossipy town. The tarot cards helped to strengthen my faith in my intuition and I hope to help others do the same through readings.
Poco a poco (little by little) I began to settle in. I made friends easily enough but Nosara has a transient expat community and many people come for a month or three or six. Some come back each high season and some leave for good to be closer to family, earn more money and just to simply be back in places with more comforts and entertainment. I would make a best friend and then they would leave and I would have to start all over again. Eventually I started to meet people who lived here year round or almost year round.
Around the same time that I was finally ready to take Spanish classes, I met my Tico (Costa Rican) love. We didn't speak much of each other's language and had a dictionary and google translate with us a lot in the beginning. He was younger than me and we clearly came from different backgrounds. He was my introduction to the Tico community here.
This brought me way way way out of my comfort zone yet again. It also taught me so many very valuable lessons. I lived in the "pueblo" (town) for one year with my love and made $5/hr working as a receptionist at an exercise studio and a clothing shop in the tourist beach area where I had once lived. It can be hard to find work that pays well here. I traded in the sounds of the waves and howler monkeys for the awakening cries of what I deemed far too many roosters when it was still dark outside. I waited in the dust for the bus, paid my $1 and rode it to work when we didn't have transportation of our own. I walked a lot. At one point, my love used to ride me around on the handle bars of his bicycle. Sometimes as I took tuk-tuks when we had extra money. I cried most days, missing the comforts I had grown up with: hot water and ease of access to things.
My love's advice was to remember that this was just an experience and to enjoy it. Ticos (Costa Ricans) live in the moment and that is the greatest lesson and gift that I was blessed with through this whole experience. I have been gifted an inside look at the lives of the Nosareños, who in turn eventually accepted my presence with open arms. In time, I stopped feeling like the outsider. I learned about and fell in love with the culture and the pura vida simplicity in the daily lives of my beloved and his family, living with the backdrop of the Nosara town. I learned about the lack of ease and the struggles that the locals lived with and faced every single day. The minimum wage is about $3/hr so I was doing well in their eyes. Many have diets that are lacking in nutrition. Most gain very little education and opportunities, and this is especially noticeable in women in the local community. Lack of education, deep religious beliefs and anti-abortion laws result in multiple pregnancies at a very young age, forcing dependency on working family members and husbands. Finally, public school and health systems have been greatly affected by the corruption and lack of funding with gaps in teaching and curriculum during rainy season.
When I met Christina Baal Owens, founder of Vive el Sueño (a non profit organization that educates and empowers local Costa Ricans to open and /or improve their own businesses) I was in awe of her work and vision. I first began working for Vive el Sueño teaching English but my position quickly grew to encompass all it does today-administration, accounting, marketing, social media, community outreach and more. Vive el Sueño offers local Costa Ricans two weeks (40 hours) of business training, ten months of bi-weekly English classes, a business logo designed and printed by a graphic designer, a professional photo session, social media training sessions, ongoing support and much more.
Vive el Sueño released 141 graduates to-date; 101 are now running their own businesses. One of my most favourite moments of the job comes at the graduation ceremony and before certificate presentation. Each participant gives a one-minute speech about their business. I always have to hold back my tears (and often have to leave the room to wipe my eyes) as I am so proud of them. You see, many of the students who come to us for help have not even completed grade six!! Yet here they are, fighting against all odds to better their lives and the lives of their families. Few years ago 15-year-old girl completed the training. When she stood up in front of the teachers and other adults, shared her business plans and her dream I lost it completely, I was crying so hard. My heart couldn't have felt more full. I feel hope in the young people and especially young women of Costa Rica. At her age I could NEVER have stood up like that, and spoke with so much drive and determination. I continue to feel fortunate when I'm welcomed into the locals' homes and businesses for the post graduation follow up and business visits. It continues to leave my heart full when I see my students' dedication, perseverance, kind offerings and praise for Vive el Sueño. I am pleased to report that ~70% of of our graduates are women and so many could be labelled as "WOW Women".
Most of of all I celebrate seeing access to and benefits of financial independence for women.
I am proud of each and every one of them and thank them for strengthening my belief that there is good in this sometimes bleak world. I have celebrated many firsts - buying their own motorcycles or cars (ability to freely move for business or for family needs), building new homes or rental apartments (improved living conditions and potential new sources of income), sending their children to university (breaking the cycle of poverty), taking vacations and raising the standards of living for themselves, their families and their community in general.
I love being a part of this organization and a part of this community. My current goal is to continue to bridge the gap between the locals Costa Ricans and the expat and tourist communities. I am making headway as we recently just launched out first Business Directory 9 and I have more plans in store. These small steps are paying off. For example we had a float in the last year's Christmas parade and are very grateful for the support of the community and thankful for their embrace of our organization.
I am in awe of my journey. I could have never imagined any of it in my wildest dreams.
I have trusted in it 100% even when most people around me continually worried and doubted (although I do understand that it looked very different from the outside to my loved ones). However, I would do it all over again to have the strength and wisdom that I have now gained and can share with others.
With the help and support of so many wonderful people I have healed and empowered myself and look forward to what my future now holds and what I can do to give back.
5. What did you study in school?
Recreation and Leisure Studies and Tourism Development.
6. How is your life different from what you pictured at 20?
Please see above.
7. Was there a time when life knocked you down or out and how did you get back up on your feet?
Answered above.
8. Advice for other women?
Let go of other people's opinions and listen to your heart. Ask for guidance, follow the signs and trust in yourself and your dreams.
9. Knowing what we know now in current political climate, can women be "all that we can be" in today's world? What is the way forward, as you see it, for "feminist values"?
Yes women can be "all that we can be" in today's world. I am the proof that many of us are rising above adversity and taking our power back. We are a force to be reckoned. Just look at the WOW Woman platform!
In my tarot readings I meet many women who are on empowerment journeys and I'm hopeful that feminist values can and will become the norm. We will find balance with the masculine.
10. Where in the world do you feel "tallest" (i.e. where is your happy place)?
Here in Nosara, in Costa Rica and at my family's cottage north of Kingston, Ontario, Canada. Both offer me nature and peace.
11. What extra-curricular activities/hobbies are you most proud of? Why?
My yoga and meditation practices have allowed me a new sense of awareness, perspective and connection to my spirit. I am very proud of my dedication to self-love and hope to inspire this in others.
12. What do you want to be when you grow up? Future goals/challenges?
Happy. I want to continue to give back and to help others to better their lives and believe in their dreams. I would love to buy a house and to grow a garden, to travel and see more of the world. I want to grow my tarot business and begin making videos and a website. I would also like to be more financially abundant although I know that is coming.
13. What fears are you still hoping to overcome?
Public speaking. I shake and sweat.
14. Anything you'd do differently, if you had another go at life?
I would be much more forgiving of myself. There is no need to be perfect in others' eyes. I would stop comparing myself to others because truly, we are all on different journeys.
15. What inspires you?
WOW Woman. People helping others to grow. People healing and finding self-love.
16. What are you hopeful about?
That others will do the work to better their lives, to heal and forgive their pasts so we can release the pain as a collective and heal our messy world. #weareallinthistogether #togetherwecan
17. What are some ingredients to a good life?
Sunshine, nature, healthy foods, exercise, love, laughter, family, happiness, travel, faith and giving back.
18. What advice would you give your 14-year-old self?
Oh my god! That poor girl. So lost and confused. I would tell her that she is perfect exactly the way she is. I would tell her to use her voice, speak her truth and forgive herself, over and over again. Believe in miracles!
19. What are you reading now? (what books do you gift most and what are your favourite reads?)
I just finished reading "Educated" by Tara Westover and loved every last word of it.
20. Who is a WOW Woman in your world who inspires you and why? Can you nominate three (or more) women you know who perfectly fit WOW WOMAN description? What would you tell them if you had an opportunity, of why you admire them?
Christina Baal-Owens - founder of Vive el Sueño, social worker, mother and advocate of immigrants and women and children. I would tell her she inspires me and has taught me that we can all do our part in creating a positive change.
Ileana Aviles Mayorga - Superwoman/owner of Floresteria Ily, mother of three, community activist, Vive el Sueño Business Program Director and an owner of million more titles. I would tell her how she inspires me to work hard and to be involved in community and family. She amazes me with her strength, drive and her never-ending selfless actions.
Laetitia Deweer - Psychotherapist and co-founder of CEPIA, mother and all-around awesome person. I would tell her how she inspires me but also makes me feel safe in my own skin. She has guided me to shine my light, to give back to others and that I am valuable and worthy. Her energy and kindness brighten my day.
I admire how these three women balance their family and home lives with their careers, community, travel and giving back!
21. Where can others find you/your work (links to websites, blogs, etc.)?
Website: Vive el Sueño (VES), Facebook: Vive el Sueno and Instagram: @viveelsueno
My personal contact: Facebook: @laughlovebreathetarot and Instagram: @laughlovebreathetarot
Here are some links to VES's success stories and business profiles: