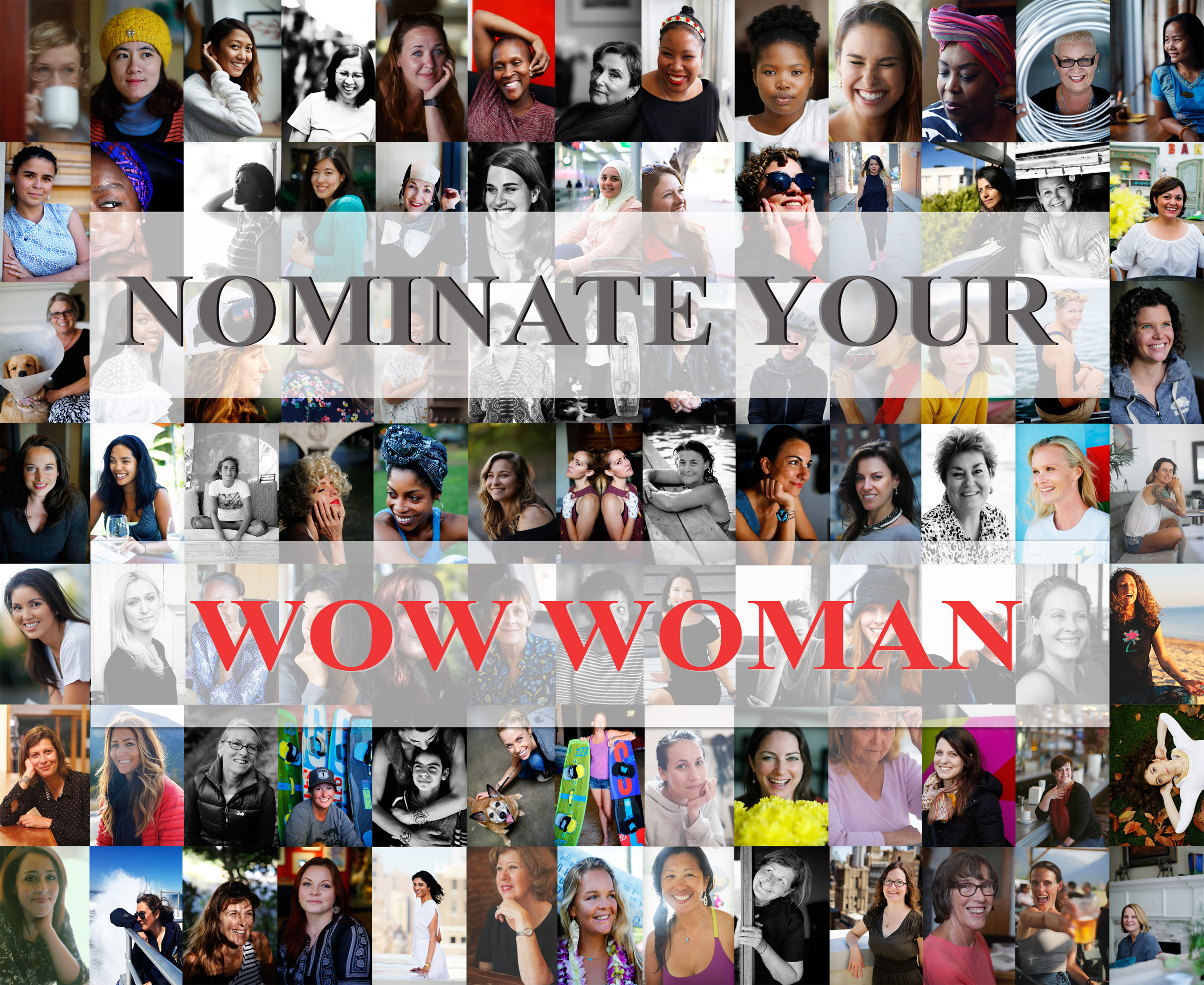 Know a strong, passionate, persevering, resilient, caring, kind, inspiring woman?
Nominate her! and She can join these WOW Women Features.
Step 1 - answer the following questions
1. Name of the WOW Woman you are nominating*.

2. Location.

3. What has she dared to tackle, or done to innovate, achieve, soar, lift-up others, overcome challenges, defy expectations/norms, etc?

4. What are some of the outcomes/results of her accomplishments, actions, causes, etc.?

5. What can other women learn from her?

6. Why does she inspire you in particular?

7. Your name.

*if you are nominating yourself, please answer the questions in the first person.
Step 2 - Attach photos
Please attach 4 (minimum) to 10 (maximum) photos with your answers.

Some ideas of the types of photos to attach: Although formal portraits are great, we are also interested in catching glimpses of her relaxing, concentrating and working hard, laughing, being involved with a task, caring for others, letting loose or having a moment of peace. Candid shots are great. The images should be genuine and must show various aspects of the woman's personality.
Keep in mind that your WOW WOMAN doesn't necessarily need to be moving mountains, to be nominated/featured. We are also looking for a quiet force, who may be overlooked in our busy world.
Please email your submission along with photo attachments to WOWwomanofficial@gmail.com. All submissions will be reviewed by the WOW WOMAN team. Selected submissions will be featured on WOW WOMAN website, facebook and instagram pages.
Thank you. Excited to hear from you!
- WOW WOMAN Team.
Disclaimer:
When you submit images and text to WOW WOMAN, you automatically grant us the right to reproduce these materials for editorial use on our site. In order to adhere to our editorial standards, WOW WOMAN reserves the right to make changes to any photos or text submitted (no edits beyond simple grammar and spelling check).

To the best of your knowledge, you represent and warrant to WOW WOMAN that the images and text you furnish to WOW WOMAN in connection with editorial use on wowwoman.com, do not and will not violate any federal, state and municipal law, rule or regulation or violate any proprietary rights of any kind or nature whatsoever for any person, firm, or corporation.

Submissions that appear as blatant advertisements or don't appear genuine will not be published as they don't represent the spirit of what WOW Woman is trying to achieve and put out into the world.